Essential Business Tools And Resources
Time is our most precious asset so it makes sense when running a business that you utilise those tools and resources that will save you time for the more important tasks.
Some tools and resources are widely available and at no cost but others have a cost attached.  As entrepreneurs we accept that we have to invest in these tools and resources to streamline our business and help us grow.
If you don't have the money set aside for business expenses such as these then don't start your business until you can pay for at least the very basic of tools and resources.
Let's look at some of the most important ones that we would recommend you have.
An Autoresponder
An autoresponder is an email service which allows you to manage building and communicating with a list of subscribers.  Autoresponders are messages set to go out automatically after a contact subscribes to your list and help you automate campaigns and manage one-to-one communication with your recipients and are useful if you want to send an automatic message to contacts who join your list
There are many different companies who provide these but the most well known for someone just starting out for both ease of use, support, training and cost are Aweber and GetResponse.  Bother offer free trials so you can try them out and see what suits you best.
A Funnel Builder
A funnel builder creates the web pages that are needed as part of the funnel. 
No matter what you sell, getting prospective customers to buy doesn't happen in an instant.
Instead, the sales process unfolds in stages through a process we call a funnel.
A sales funnel is a marketing strategy designed to turn cold prospects into long-term customers by funneling them through a number of stages
Depending on what you're selling and who your target audience is, you'll want to tailor each stage of your sales funnel(s) accordingly.
To keep it simple, a funnel is required to capture details of prospective clients and be able to communicate with them at each stage of their journey (which is where having an autoresponder is important)
A simple funnel goes like this…
Step 1 : Find a place to generate traffic that feels natural to you
Step 2 : Drive traffic to a landing page that grows our email list
Step 3 : Send daily emails teaching and sharing offers of products they'll love
What do we use for creating funnels?  We use ClickFunnels as well as LeadPages
We've been using it for years and you can't beat the simplicity and easy of their platform
We've even partnered with ClickFunnels and LeadPages to get you a 14 day Free trial through our affiliate link.  See which suits you best.
A Website
Many people don't believe that a website is an important tool for a business but we would absolutely disagree.  We have had one for over ten years even before simple, easy to use websites built on the WordPress platform (like this one where you are reading this page) could be created.
We like to think of a website or blog as the home online of any entrepreneur or business owner where you can always be found and your clients and prospects can reach out to you.
Social media platforms are owned by someone else so we would never recommend anyone thinks as using any one of the many available as their home online but rather complimentary to their website
WordPress is very simple to use.
You can purchase a domain from Namecheap or GoDaddy for about $10 as well as hosting which will cost you about $5 per month and from there install WordPress.org.  Your hosting company will help you with that if you are not techie.
There are many different offers available for hosting but we work with just two
In the UK we use TSO Host
For international users we work with LiquidWeb
Alternatively you can have one of our fully hosted WordPress blog websites where you can send your content direct from your smart phone in minutes.  You can try it out here with our compliments.
These are the absolute basics you should have in your business and should should factor in these costs (of course they are tax deductible too)
Of course there are many 'nice to have's' and we'll share some of our favourites here (some are free to use so take advantage).
Hosting
There are many different offers available but we work with just two
In the UK we use TSO Host
For international users we work with LiquidWeb
NICE TO HAVE'S
Linktree
This is a fabulous tool that allows you to share multiple links on your social media accounts – Instagram, Facebook, Pinterest, Tik Tok etc…  It basically creates a simple landing page that hosts multiple links. You pop the link to this landing page in your social bio in order to drive traffic to specific areas of your business.
There is a free version and a premium version, which (at the time of writing) costs $6 per month.
The free version has limited functionality and doesn't allow you to add much branding. However, you can add a profile picture and change the colour of the background to one of their pre-sets.
You just need to visit the Linktr.ee website and create an account. When we tried it, it took about 5 minutes to set up, front to back.  We have the Pro version and we love it – see it here
How To Create Your Linktree
Simply list the most important links on your site in order to direct users to specific information. For instance, you could feature your latest article, your newsletter sign-up page and your contact page. There's no limit to how many you include.
Once you're ready publish to your Social Media Bio / About Pages
See ours here
Even though we talk about this under our "nice to have" section actually it's more than a nice to have!
Ripl
Ripl is an app that makes it easy to create eye-catching social media posts and lets you share a post you create to all your social accounts with one tap or schedule for later.
There are thousands of templates to choose from and over 500,000 stock images and videos you can use
Their blog is awesome with so many ideas and information to help you build your business
It is a paid for application but when you balance the time it takes to create content for social media and build your brand it's definitely worth every penny
10/10 would recommend Ripl! We use it to create, post, and track social content.
Sign up with this referral link for an exclusive deal.
Here's just ONE of our many posts using Ripl so you can see for yourself
It's very powerful and allows you to get more engagement, leads and sales from your social media efforts!
Mention
Your reputation online is EVERYTHING
You need to protect it as if your life depended on it
Luckily there's a service that can handle all that for you – mention.com
it recently alerted us to a social media post on Instagram and we were able to respond
They have free and paid accounts so you can get started for free which is great news
As an added bonus you can sign up for alerts about content relating to your brand so you've always got something to talking about adding authority
Facebook Apps
Truth is there are a lot of Facebook Apps for all kinds of tasks to save you time and help you build your business.  We've tried lots of them and now we have our firm favourites. These two can also be used on LinkedIn so doubly effective!
Friend Or Foe : Friend or Foe is a software that runs as an extension in Google Chrome.  We've been using it for the past 6 months and absolutely love it.  In it's simplest form it works by sending a message to everyone who friend requests you on Facebook (you create these messages to fit your business and style)  That way you control who becomes a friend and who doesn't so that your Facebook Friends truly are a group of people you have chosen to be connected to.
And the biggest PLUS of all…you can use this tool to direct someone to join your Facebook Group, subscribe to your YouTube channel, or anything else you want, turning every friend request into a potential lead!!!
We've just got notification (July 2021) that it's going to become a full CRM, Messenger Organiser, Messenger Scheduler, Personal Profile, Page or Group Post Scheduler and many more exciting additions.  Whenever you get in the price is locked forever and you get all the software updates.  Now would be a very good time to get locked in with a free trial here
Happy Birthday : Also by the creator of Friend or Foe this is another fabulous chrome extension software.  The newest update lets you post to your friend's timeline, messenger or both.  It automatically defaults and sends a message if timeline is selected but that person doesn't allow posts on their timeline.  It also tracks ALL BIRTHDAY MESSAGES SENT for the last year in a little CRM with clickable links to all your birthday posts and the associated user profiles.  It really is ONE of the most powerful tools for Facebook and we've loved using it.  Try it out for yourself here
Post Planner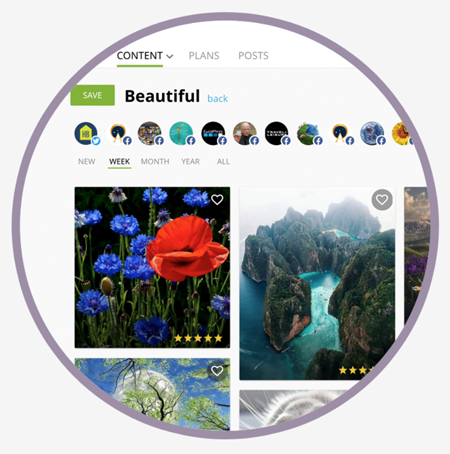 With Post Planner, you can schedule posts to:
Facebook pages & groups
Instagram business accounts
LinkedIn profiles & pages
Pinterest accounts
Twitter profiles
It's a most valuable time saver and provides you with so much content you will never be lost for what to write
They have a fabulous blog too so well worth checking it out for tips and strategies posting on social media
We were one of Josh's very first clients when Post Planner was in it's infancy.  It's amazing to see it in action now from it's early days 🙂
Social Activity Tracker
This is the newest addition to our list of tools and resources we use in our business
It's especially handy if you are one of those entrepreneurs who is building their business using Facebook organic strategies
The creator is a good friend of ours and very experienced marketer so we listen when she teaches something
This is good so we highly recommend you check it out 
She has two other products in the stable so you might want to look at those while you are there (she has a special offer at time of writing)
Blog This Wow
Blog This WOW is the easiest way to have your own website and grow an audience and establish your brand
We mentioned having a blog/website above but we wanted to touch base on it again here and introduce you to our most favourite and easy way to publish content without actually having to write it yourself!  Every day we see great content either on social media or in emails and we're able in an instant to share it to our Blog This Wow website here
It solves so many problems simply and easily
 Builds YOUR Brand
 Builds YOUR List
 Simple Content Creation
Most people don't start a blog in our experience as it's complicated to bring all the moving parts together especially if you are non techie… and then there's all that content to create 🙁
What if there was a way to solve your blog nightmare?
A fully hosted blog with all your own assets and best of all designed for integral list building
And all you need to do is share relevant content from around the internet that your perfect customer wants to know…
And leads to your personal offer of YOUR products, services, coaching program etc
That's Blog This Wow – why not try it for yourself and see how EASY it is
Thanks for reading and if there are any questions we can answer for you do let us know.  We'll continue to update this page with our favourite things to help you build your business
Chris and Susan
PS  We only recommend tools and resources we use ourselves and in full disclosure we may earn an affiliate commission on some recommendations although it makes no difference to what you pay for it